With a short stop in Vancouver, I headed back east to the prairies to the city of Regina. Canadians might know that this is the capital of Saskatchewan, but most of them have never been there. Why would I want to go there? The answer is simple – because I wanted to visit Steve and Jan, whom I had met in Argentina back in January. They live and work in this city, which is surrounded by endless fields and an open sky.
As they were still on their sabbatical leave, they took some time to explore the area with me. First, we visited the "Buffalo Pound Provincial Park", where the Indians, or first nations as they as called here, used to chase herds of buffalo over the steep edge on top of the river hill so that they would fall and break their neck. Nowadays it's rather peaceful and the buffalos are kept in an enclosure. Unfortunately it is quite large and covered with many trees, so that we didn't get to see any.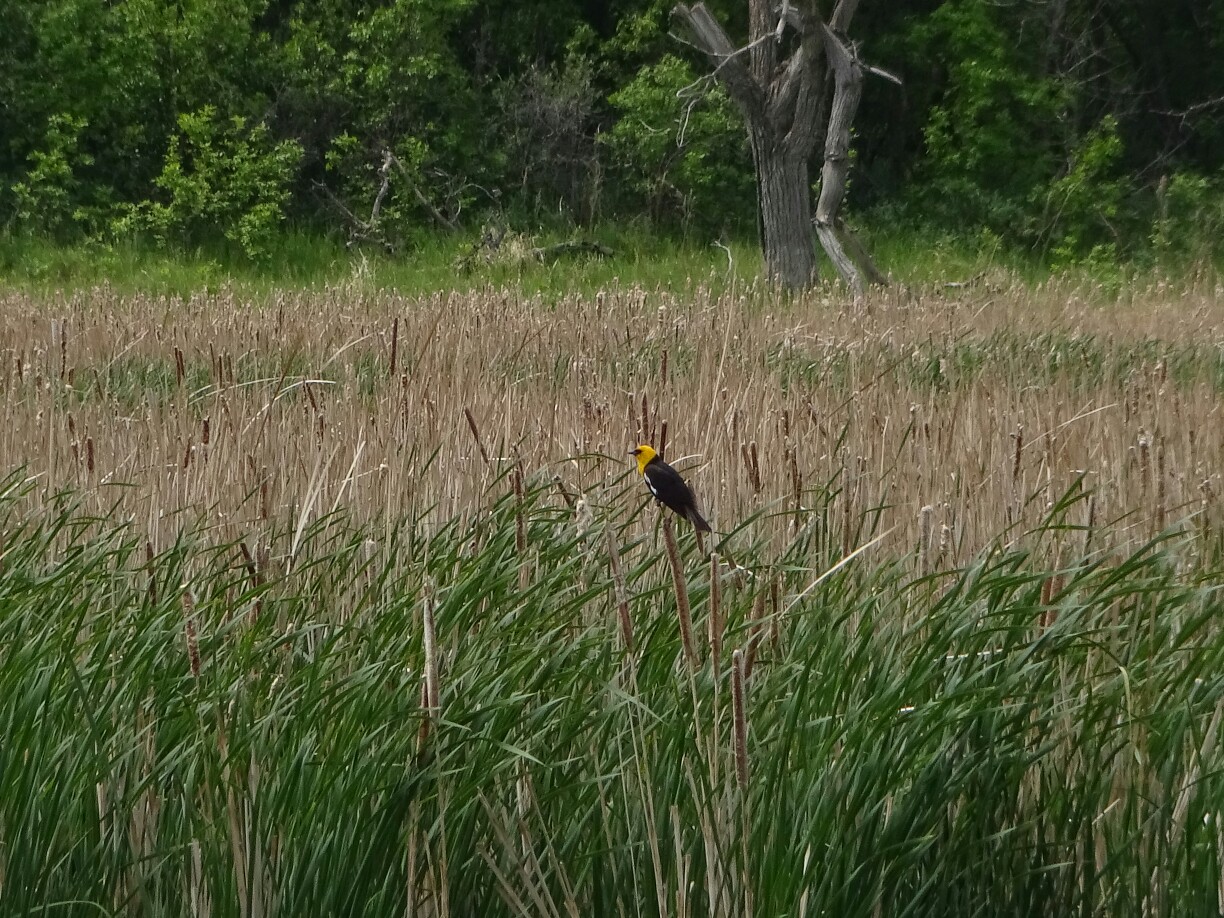 Instead we went on a little hike around the "Nicolle Flats", a swampy area that is home to many birds and other animals and insects. By the time we had completed a little less than half the way around, we realized that we had several ticks crawling up our pants. Somehow Steve seemed to be the most attractive for them for they had also managed to find their way underneath Steve's long pants. We completed the rest of the hike in a hurry, eager to get some help to remove the ones that had already attached themselves.
Luckily we found some nice people at the otherwise deserted parking lot, who gave us some bug spray. The smell was strong enough that it made the ticks let go so that we could take them off. But even if we managed to take off all of them, it was still itching everywhere for the rest of the day and we got a little paranoid thinking that we still had ticks crawling all over our bodies. Since we still wanted to visit the "Tunnels of Moose Jaw", we had to live with that feeling for the rest of the afternoon, before we could take a shower and dry clean our clothes.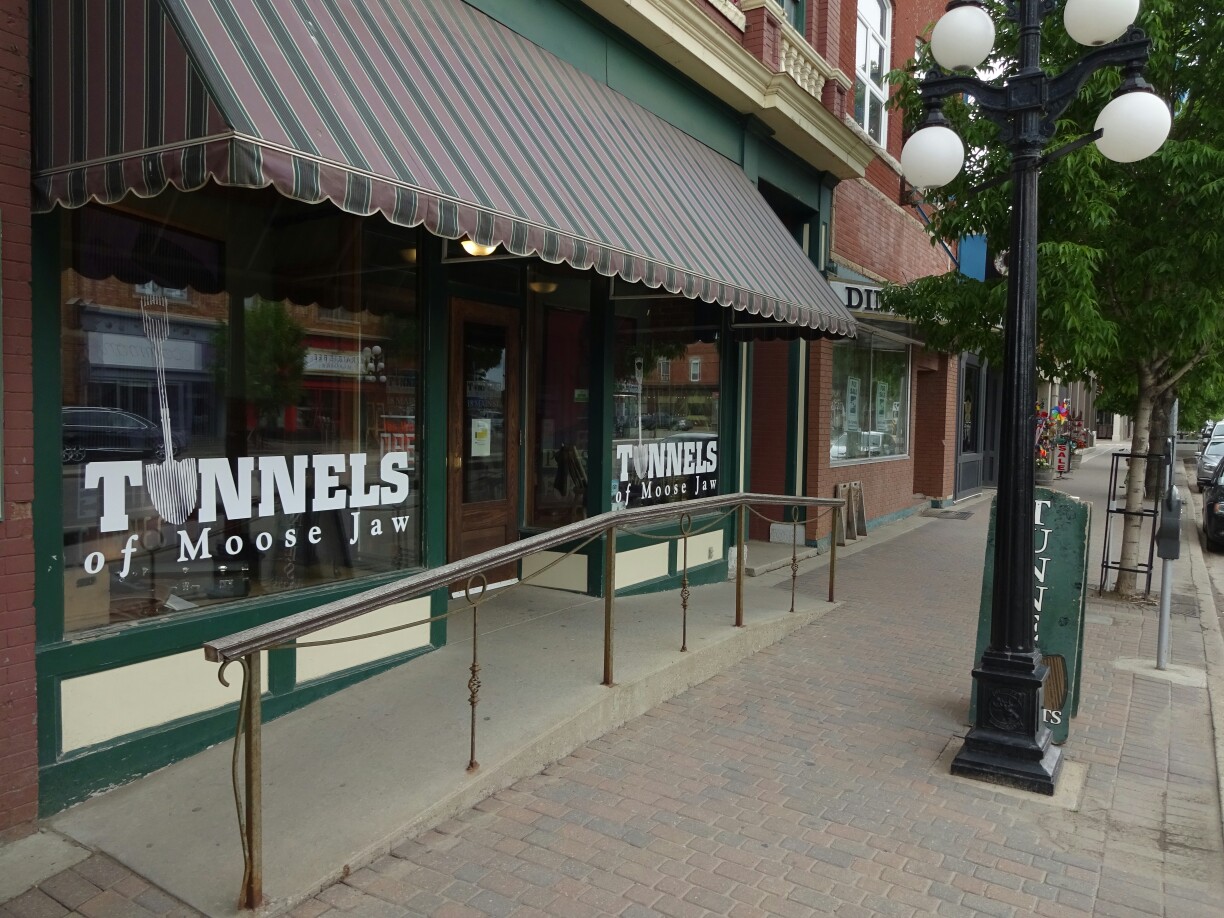 There are two tours offered to explore the tunnels. We decided to find out what Al Capone was doing in Moose Jaw. The famous gangster from Chicago supposedly got his booze supplies during the prohibition from this Canadian town. It is also thought that he came every now and then to hide out when the air was getting too thin. This theory is supported by the railway that connected Chicago and Moose Jaw in the late 1920s. On the tour we got to experience some of the old flair of hidden saloons, tunnels and secret doors.
The next day we went to the tiny village of Ogema. Although it only has about 400 inhabitants, this town is home to two major tourist attractions: The "Southern Prairie Railway Train Tours" and the "Deep South Pioneer Museum". Since the train was booked out, we decided to have a look at the large outdoor museum. More than 30 buildings from Ogema and the surroundings have been gathered and restored on the grounds of the museum, most of them are nearly a century old, from a time when the first settlers arrived in this area.
Besides from having a large number of old farm machinery, such as tractors and early combines, they also had old cars, carriages and sleighs. The buildings included a school, a church, a doctor's office, a hairdresser and a movie theatre. The interior was full with original artifacts and created a feeling as if the old pioneers were still watching our very moves. It also made me quite happy that I don't have to put up with the frightening machinery of a dentist from back in the day.
Afterwards we drove up to Moose Jaw once again. This time we wanted to have a look at the "Pow Wow" that was held at the banks of the "Kiwanis River". This is a social gathering, where the first nations people get together for singing, dancing, socializing and for honoring their cultural heritage. In our case it was an intertribal event and open to the public. Visitors could bring their own chairs and sit around the tent with the dancing area.
Even if we had missed the opening ceremony and most of the grand entry, it was still very impressive. Men, women, young and old were wearing their traditional clothing, known as "regalia". They were decorated with feathers, fur, little bells and even turtle shells. Located around the dancing area were several drums, which were played by a group of six to eight people singing traditional songs. It was a very powerful experience and you could feel the energy from the dances and the drums in the air.