In Sucre we had been at the first real tourist information that we had come across in South America. Many offices have written "tourist information" in their window, but most of them are only trying to sell their tours and don't have much information about anything else. This one was different. He was a nice guy from Switzerland, who took his time for us and gave us lots of tips and useful information. One of the things he had recommended was a tour of the mines in Potosi.
Potosi was originally not on our agenda, but it sounded pretty interesting, so we looked at our calendar and counted backwards the days we still needed for the rest of our trip here in South America. By the end we figured, that we would have enough time to visit Potosi. So we wrote to Jhonny, whose contact details we had gotten at the tourist information, and asked him, if he could give us a tour of the mines.
Jhonny, a former mine worker, now tour guide, confirmed our tour and set the pick-up time for Monday morning. In order to make this time, we boarded another rundown bus and were happy that the ride took only four hours. With the night spent in Potosi we were all ready and rested for this new adventure. Fredrik and Fredrikke from Denmark, who we had met on the market tour in Tarabuco, and Ilja and Tryxt from the Netherlands, who we had met back on the "Isla del Sol" joined our tour.
After everyone was equipped with working clothes, rubber boots, helmet and a head lamp, we were ready to go. The first stop was still in town. We got off at one of the little corner stores to buy presents for the miners. We bought juice, crackers, coca leafs, cigarettes, little bottles with 99% alcohol and some dynamite. Yep, that's right, dynamite, a stick costing about 3 Euros. We didn't even need a special permit or present our ID or anything, we just asked for it.
At the mines we left our car behind and entered the compound on foot. There were miners sitting around everywhere. Most of them had a stuffed cheek, which was filled with a bunch of coca leaves. This is not only good against altitude sickness, but also stimulates the body in order to be able for the long and hard work shift underground. We greeted all of them with "Imaynalla", which is Quechua and means "How are you?", and gave them some of our presents.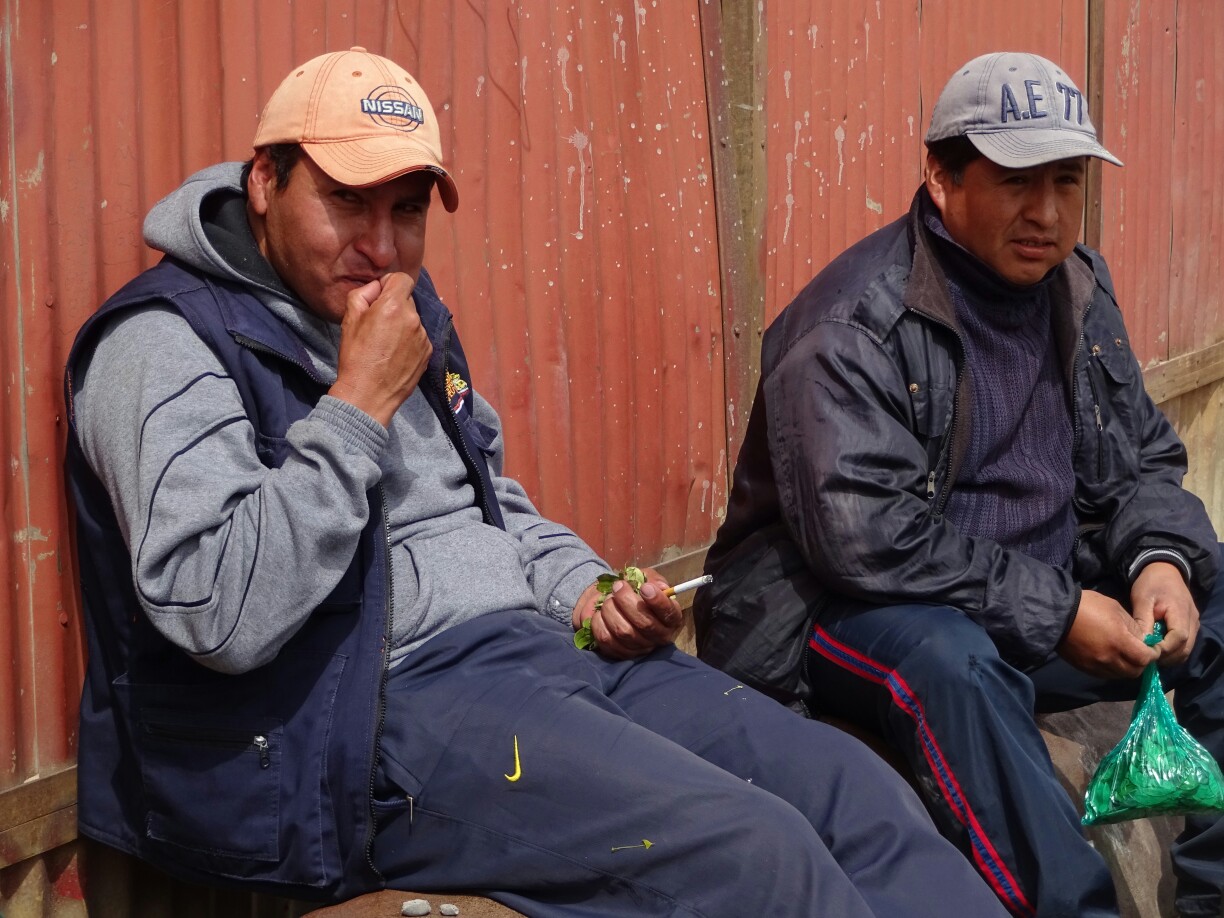 Then it was time for a quick demonstration of the explosive force of our dynamite. We opened the packaging and revealed some white matter with the consistency of modeling clay. We turned it into a small ball and added about one minute worth of fuse cord. Afterwards, Jhonny took it up the hill, lit the fuse and came back to us and watched the big cloud of smoke disappear after a deafening bang had startled most of us. We were quite happy that we were out in the open for this demonstration, as the narrow tunnels of the mine would have concentrated the noise even more.
With this in mind, we took a deep breath, put on our respiratory protection and entered the underworld. Jhonny lead us through a maze of small tunnels and passages deeper into the mountain, which has been mined for silver ever since the colonial times. It's crazy to think that people work down here every day for many hours, most of them with basic tools and without big machinery, often carrying the minerals back out on their back.
We met a few people along the way, but most of them work even deeper down. After turning left and right, climbing up and down through the tunnels, everyone but Jhonny had lost their orientation. At that point a devil had appeared out of nowhere, probably telling us that we had lost our mind. But it turned out to be a statue of "El tio" ("The uncle"), the god of the miners. We offered him some of the alcohol and some cigarettes and asked him for a safe passage back out.
It seems like the offerings were accepted, because all of us made it safely back into the daylight. By the end we were exhausted of crawling through the tunnels, and the altitude and the bad ventilation left us craving for fresh air. Back out in the open we enjoyed the warm sunshine on our faces, but we were happy for this outer-worldly experience.