After a week of being in Lima it was time to continue to discover more of Peru. With Nik I boarded the most comfortable bus I've been on so far, equipped with almost anything you could ask for: Comfy seats, personal on-board entertainment and good food. It took us a few hours south of Lima to the coastal city of Paracas.
The next morning we took a boat cruise to see the two main attractions that Paracas is known for. The first one is a giant chandelier scratched into the desert sand on the sloped coastline. There are different theories on who built it: It could be related to the Nazca lines, but it's quite far from them; or it could be installed by San Martin, the liberator of Peru and a freemason, as the symbol has different elements that can be found in freemasonry as well.
The other main attraction is a bit further of the coast. We bounced across the waves in our little speed boat to get to the Ballestas islands, also known as "Poor man's Galapagos". However, even if it was quite nice to see all the different birds and many sea lions, I'm sure that the real Galapagos islands are even more impressive.
After the tour we boarded another bus to get us to Huacachina. This is a tiny village around an oasis. Even though it's only 4 km out of Ica, it feels like being in the middle of the desert, as it is surrounded by high dunes on all sides. While having a look around, we found another small oasis. This one seemed to be the sewage for the village, as it smelled accordingly and was full of trash. Paradoxically it is located a bit above Huacachina, so that I'm sure that water ends up in the main lake of the oasis.
In the afternoon we boarded a large sand-buggy, which took us deeper into the dunes. It was an awesome ride up and down the steep sandy slopes, which felt like a proper rollercoaster ride. Sometimes the dunes were so steep that we couldn't see the end as we were about to go down. Afterwards we tried some more Sandboarding before driving off to watch the sunset.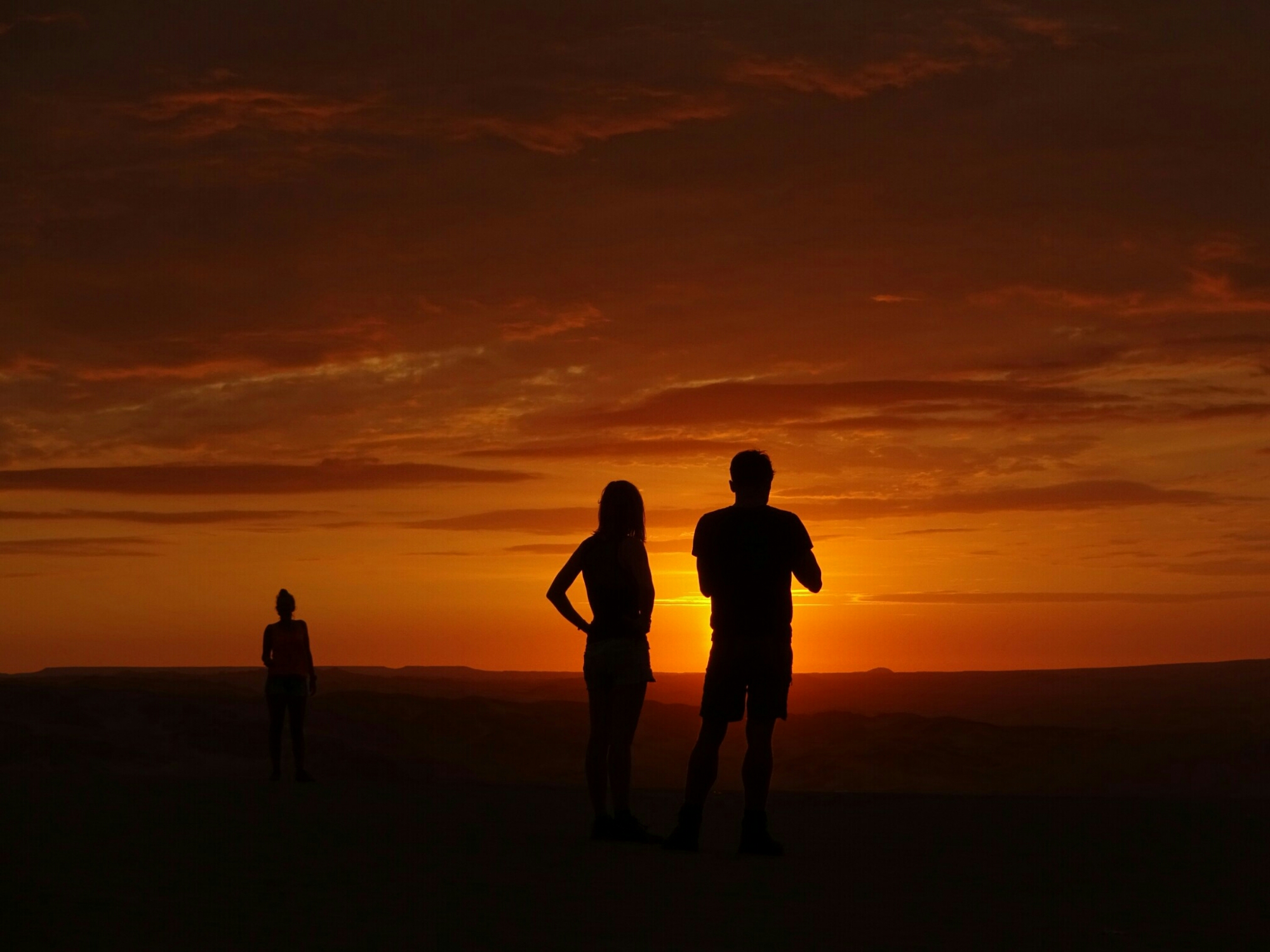 We continued the next day and took another bus to get us to Nasca. This city is world famous for its mysterious images scratched into the desert floor thousands of years ago by the Nasca culture. Nobody knows how they managed to create them without aerial view. As they are about 50 m and bigger, it's best to see them from above in a tiny low flying plane, which meant boarding another half hour of rollercoaster ride, as the air gets a bit rough in the afternoon.
The flight took us on a loop to view 12 of the main figures, including birds, a monkey, a tree, a lizard and a so-called astronaut. There are even more symbols and mysterious straight lines crisscrossing the desert all the way to the horizon. It is believed that the symbols were used for religious ceremonies, as ceramic bowls and human bones were found nearby.
In the area surrounding Nasca, more archeological sites can be found. We decided to visit a few of them, as we had still some time until our next bus to Cusco was leaving. My favorite was the aqueduct, a series of open wells, which were used by the Nasca people to access an aquifer. That way they were able to farm fruits and vegetables in this desert climate.